If you're a marketer in the Higher Education space, you're constantly thinking about your overall digital strategy and how to stack the funnel. If your digital marketing strategy doesn't include lead nurturing, you could be missing out. So what does it look like to cross the finish line by utilizing an effective lead nurturing strategy? There are many ways to get results, but we have spotlighted 5 lead nurturing strategies you probably aren't using but could benefit from.
1. Targeted Content to a Targeted Audience
The first and most important lead nurturing strategy begins with targeting the right audience with the right content. Start by nailing your prospect's persona. Once you've got your prospect's personas down, you can start mapping out your content. Developing a cyclical content marketing strategy in tune with your niche is imperative for conversion. Focus on building out local content topics. Localized content is important especially if a college or university has brick and mortar locations. Online schools can be a bit more challenging, but not out of reach. With the right content and a little patience, targeted content can be an effective way to maximize form submissions with little effort. Always keep the content relevant to your institution and program. Video, social media, and blogging are all great ways to create engaging content.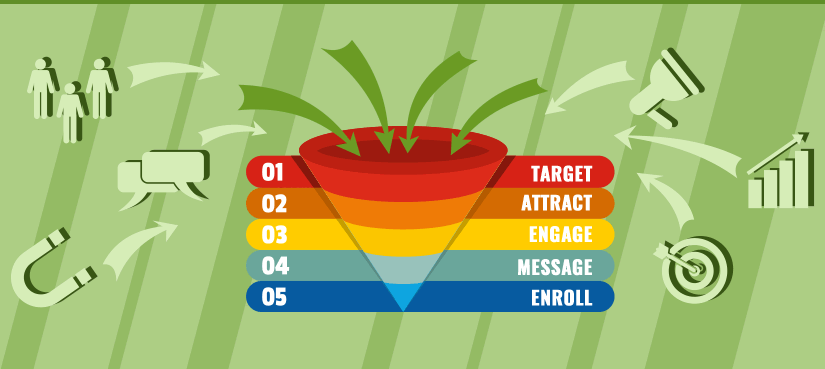 2. Remarketing using Personalized Emails
According to Campaign Monitor, "Personalized email messages improve click-through rates by an average of 14% and conversions by 10%". Segmenting is one of the most effective ways to re-market to your prospects because not all of your prospects are the same. You should be picking apart and splitting up your list of emails into various segments. For example, segmenting your list to include prospects interested in certain programs can determine how your email marketing campaigns will communicate with those users. Use the data that you've collected to craft personalized messages and tailor your content to fit your list.
3. Understanding your Prospect's Needs
As you build a relationship with your prospects, you should (in theory) be learning more about their needs. When a prospective student responds to one of your campaigns it tells a story about their unique interests and what they're searching for. Every link they click, and every piece of information they fill out on a form tells you more about them. Take this opportunity to leverage information and craft your forms around your prospect. Remember not to ask questions that you may have the answers to. You can also use this information to target what sort of content may appeal to them in an email or lead nurturing campaign.
Do you need help improving your lead nurturing,
Target, attract and convert more leads today!
4. Develop Relationships Through Lead Nurturing
As you begin to understand your prospect's needs and track them through the recruiting process, you will ultimately begin to develop a relationship with the user. Your lead nurturing funnel will look something like this: The user will begin to trust the institution because the right information was delivered and sourced initially to gain their attention. The user (prospect) was followed up within a reasonable time frame, in a way that they felt comfortable with. The prospect receives an email that was tailored to their needs and was met by the contents of that unique email.
Your enrollment to start funnel should look something like this:
(interest -> relevance; relevance -> need; need -> urgency, etc.).
5. Timing is Everything – Execute and Following Up
Now that you've determined the prospect's sense of urgency, use this information to determine when and where to act. Timing is everything…especially if the user is at the stage where they're inclined to make an important decision – to enroll in your institution or abandoned the idea altogether. Choose your medium of communication and use this information to target the prospect when they're feeling the most ready to act on their own accord. Natural communication and reassurance when a prospect is in the decision-making stage, is the most successful way to successfully nurture your qualified leads through the student recruitment funnel.
Do you have a successful lead nurturing strategy that you've implemented and want to share your results with us? We'd love to hear from you!