EMS Lead Management Platform and Marketing Dashboard
Edufficient's proprietary lead management platform provides education clients, vendors/partners, and internal account managers with strategic advantages through flexibility, efficiency, scale, security, and performance. The EMS marketing technology suite also features education-based campaign controls like lead source and campaign management, media planning and allocation, marketing partner/vendor management, digital form post instructions (FPIs), forms builders, partner/vendor invoicing, and many more education-centric marketing features. The real-time lead capture and lead delivery systems are processed using instant validation, verification, de-duping, like-data matching, and smart lead rejection.
High-Performance Lead Management Platform
Edufficient's web-based administrative tools and dashboards are built using the latest cross-browser and cross-platform standards. Our rock-solid applications are built for high-quality performance, behaving consistently across a wide range of desktop and mobile devices. The EMS dashboard provides graphical user interfaces for both clients and marketing partners. We also offer APIs for third-party developers and external application integration.
Dashboard and Campaign Management Features
Custom executive lead dashboard (with metrics that matter to you)
Hundreds of system reports and pivot options
Media planning and allocation
Advanced data segmentation
Warm transfer recording management
Call Tracking
Smart lead search
Detailed source and campaign tracking and attribution
Partner/Vendor Management
Advanced 3-way call center and warm transfer integration
Interested in seeing these features in action?
Contact us and schedule a free demo today!
Integrations and Delivery Technology
Rapid integrations via robust API connectivity library
A large library of data delivery connectors
Multiple asynchronous new inquiry delivery endpoints
Connectors and triggers for multi-directional data synchronization
Flexible data mapping and input/output transformations for multi-directional integrations
Conversion/status API and custom action triggers
Custom Lead Management Platform Integrations
EMS System Integration Points:

Ynot CRM Lead Management Platform
Ynot enables you to automate portions of your Marketing and Admissions process without losing the feeling of a personal touch. Your Reps will love it! You'll be able to power up your Admissions Rep Productivity. Do more with less.

JORNAYA
Customers decide when, where, and how they want to shop. Whether they're shopping for a car, loan, insurance, or degree, we can expand your view of the customer journey by providing early behavioral buying signals. This allows for optimized timing and messaging for exceptional customer experiences.

Verity IQ
Engage prospective, current, and former students on one CRM platform built exclusively for Higher Education. Leverage the power of workflow automation for efficient, effective, and consistent communication throughout your students' journey to a successful career.

Google Forms
Google Forms is a survey administration software that is included in the Google Docs Editors software suite along with Google Docs, Google Sheets, and Google Slides. It allows for collecting information from users through surveys. The collected information can be automatically entered into a spreadsheet.

Velocify (by EllieMae)
Velocify, a part of the Ellie Mae Digital Lending Platform, puts sales automation to work for you to keep your team organized and focused on activities that drive more business.
HubSpot
Marketing, sales, and service software that helps your business grow without compromise. Because "good for the business" should also mean "good for the customer."

Xverify
Email verification has really improved my email deliverability. I no longer get fake email addresses, and no longer have a problem with hard bounces. My email open rates are higher and everything is performing better. I'm glad I found the Xverify tool and would highly recommend it to everyone.

Google Search Ads 360
Get the most from your search campaign management. Search Ads 360 helps you respond to an ever-changing market in real-time and at scale.

SharpSpring
SharpSpring is the most comprehensive and affordable sales and marketing automation platform on the market. We drive more leads, convert more leads to sales, and optimize their entire funnel with our all-in-one solution.

Facebook Ads
You don't have to be an expert to start advertising on Facebook. Create and run campaigns using simple self-serve tools, and track their performance with easy-to-read reports. More than two billion people use Facebook every month—so no matter what kind of audience you want to reach, you'll find them here.

Sisense
We use Sisense to empower BI and data professionals, developers, product managers, and business leaders to simplify complex data and transform it into powerful analytic apps.

Google Ads
Google Ads makes it easy to show the world what's unique about your business, so you can reach customers searching for what you offer.

TrueDialog
TrueDialog is the leading provider for mass text messaging and personalized two-way texting at scale.

Google Analytics
Google Analytics gives you the free tools you need to analyze data for your business in one place, so you can make smarter d

VanillaSoft
VanillaSoft's Sales Engagement platform gives your sales team the tools they need to engage, qualify and close the sale — all in one place. Simple.

ellucian
Power your institution with a full ERP system designed for complex higher education processes. Integrate everything efficiently and with less maintenance effort using our open Ethos data model framework.

LiveVox
LiveVox seamlessly integrates Omnichannel Communications, CRM, and Workforce Optimization to create better agents and customer experiences.

CampusNexus
From recruitment to career services, institutions need to respond more dynamically and collaboratively as student needs evolve. Now there is a higher education solution that goes beyond CRM to provide the insight and engagement tools your institution needs to drive success across the enterprise, at every stage of the student lifecycle – CampusNexus Engage.

Microsoft Dynamics 365
Build more rewarding business relationships when you improve customer communications and create seamless customer journeys to nurture leads and empower sales teams with Dynamics 365 Marketing.

ConversionCalls
Route your leads to us from various vendors, we will call them for you; verify and qualify them, only the qualified prospects will be transferred in real-time to your representatives.

Microsoft Excel
Microsoft Excel is a spreadsheet developed by Microsoft for Windows, macOS, Android, and iOS. It features calculation, graphing tools, pivot tables, and a macro programming language called Visual Basic for Applications

Bing Ads
Reach customers looking for your business. Use the Microsoft Search Network to connect with an audience that searches 7.4 billion times a month.

LeadSquared
Complete admissions platform for student acquisition, application tracking, student journey tracking, and more. Map end-to-end student journeys – inquiry, applications, counseling

iDatafy
World-class data consortiums that help our clients: · iDatafy and connect to new job talent. · iDatafy and stop online marketing fraud. · iDatafy and stop federal student aid fraud.
Custom Lead Flow Mapping and Implementation Strategy
Our onboard and implementation team can work with you to understand how leads flow through your existing systems now and potentially make recommendations that will ensure cleaner data and better data attribution going forward. Our teams work extremely well with your technology vendors to make sure that all systems are properly connected and running smoothly. EMS is truly the most flexible lead management platform available in the higher education marketing industry.
A Simple Example of an Omni Channel Lead Flow Implementation
This is one of the more simple integrations we have done for our clients. As our schools grow with us, so does their approach to Omni-channel marketing which requires much larger implementation plans. Edufficient people and technology are here to help you manage that growth.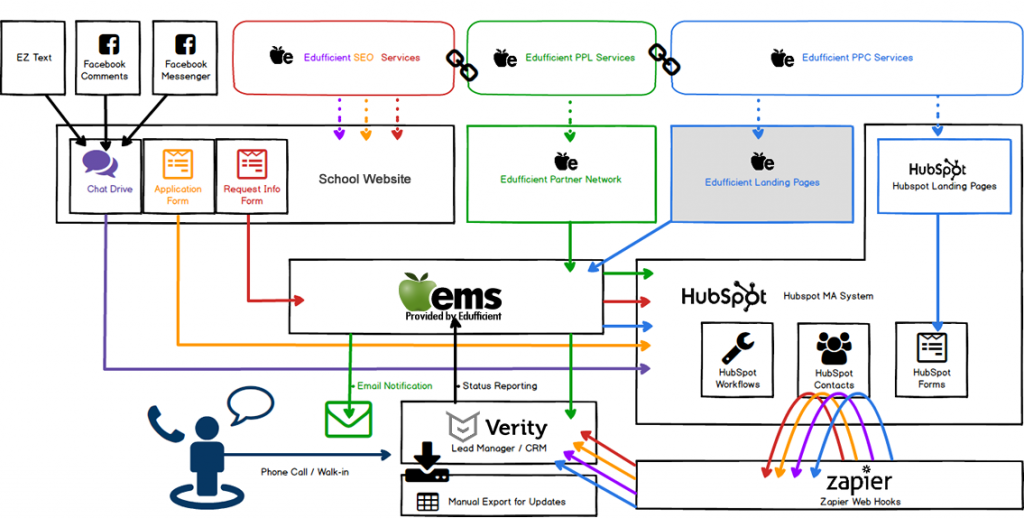 First-Class Technical Support
Our enterprise-level application developers along with your account team not only support the EMS platform but will work with your internal IT teams and third-party partners to ensure consistent, clean lead delivery from system to system.
Infrastructure Highlights
The EMS backbone is supported by robust application and database servers infrastructure is supported by, but not limited to, a variety of Amazon Web Services. Application security and data protection are of the utmost importance at Edufficient.
Robust, modern technology infrastructure and software tooling
Speed to market, with agile and rapid development
Sophisticated deployment architecture
Independent code reviews and QA
High availability via seamless deployments, redundancy, and scalability
Data Integrity and Hygiene
Intelligent data cleansing and normalization
Fraudulent data detection and filtering
Data verification services, built-in and third-party
De-duping and identity matching across all sources
DNC Management
Interested in seeing these features in action?
Contact us and schedule a free demo today!