Marketing Automation Services
Edufficient helps schools use marketing automation to automate triggered messaging that is highly customized and targeted. These groups receive relevant and timely communications based on their interests and position in the funnel. The intent of this intelligent messaging is for the purposes of effective lead nurturing.  Our thorough understanding of inquiry-based web conversion combined with the power of marketing automation is essential to not only optimize your email marketing campaign but convert opportunities into students.
What Is Marketing Automation?
Marketing automation refers to software platforms and technologies designed for marketing departments and organizations to more effectively market on multiple channels online (such as email, social media, websites, etc.) and automates repetitive tasks.
Additional Campaign Benefits
Effectively nurture prospects to move them down the funnel
Warm-up prospects to make them more receptive to your value proposition
Benefit your admissions goals by increasing enrollments
Deliver messaging specifically relevant to the prospective student
Increase brand awareness and seed your "top of funnel" lead sources
Create messaging with a high level of personalization for prospects
Reduce marketing costs, increase efficiency
Better targeting and segmentation based on actual engagement (not just data collection)
Keep existing prospects interested with timely and relevant information
Understand your prospect trends and behavior on new levels
Enhance customer experience
See how Edufficient can help you improve your lead nurturing strategies,
Contact a Marketing Automation Specialist!
Autoresponders, Recirculation, and Remarketing
Edufficient provides a comprehensive solution for your school to deliver instant customized multivariate autoresponders, behavior triggered email recirculation, and remarketing, along with unique website visitor id. By delivering the correct individualized content to the prospect at just the right time and identifying when they return to your website and what pages they visited we can help your school significantly improve conversion rates
Edufficient Managed MA Services
Leveraging our enterprise marketing automation solution we set up, manage, and refine campaigns matched to your schools' programs and marketing campaigns. Working together to create approved email templates customized to your programs, method of inquiry generation, and duration since initial inquiry we drive interest through conversions.
Additionally, we place a small script of code on your website allowing us to identify the who, what, and when of the visitors to your site. This in-depth tracking gives us the ability to alert your admissions staff so that they can reach out to them while they are actively engaged.
Self-Service MA as a Saas Service
Our SaaS-based platform solution is meant to be managed directly and independently by the school's marketing staff. We provide you with the full suite of enterprise MA solutions allowing you to customize content delivery, timing, and intent resulting in generating significantly higher conversions, thus increasing your ROI.
Email MA software tracks and develops:
Better marketing processes
Personalized messaging
Trigger actions
Dynamic lead forms
Campaign optimization data
Prospect Behavior tracking
Automated email marketing
Admissions notifications
Campaign specific user analytics
Content ROI tracking
Email campaigns
Landing page builds
Cross-channel marketing campaigns
Lead generation
Segmentation
Lead nurturing and scoring
Retention
Measuring ROI
Website personalization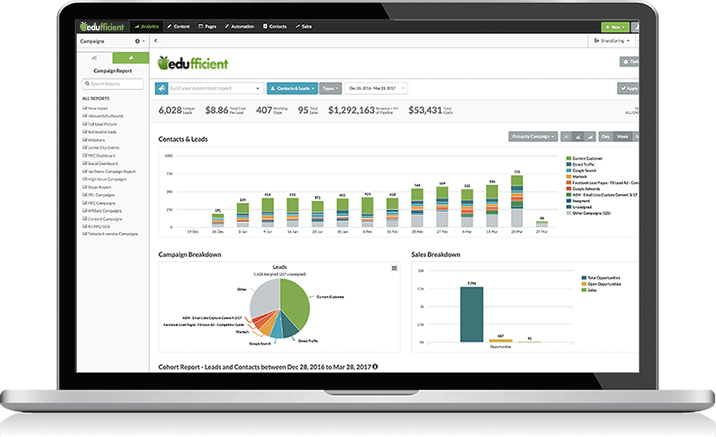 Marketing Automation FAQ's
How does Marketing Automation track website visitors?
Using a variety of tracking cookies, scripts, and triggers, a good marketing automation platform will not only be able to track websites but social media platforms, email client activity and some can even track a prospect journey through the Google Display Network (over 2 million sites that reach across 90% of all people on the Internet today).
How practical is it to automate sales and marketing?
The short answer is very practical, but that all depends on the complexity of the campaign. We always recommend starting off with some simpler automated workflows and add to them over time. The longer you run an automated campaign, the more data you can collect on prospect behavior. Before you know it, the workflows become more complex and highly targeted.
Why is marketing automation important for a business?
Smart marketing teams use marketing automation to make their campaigns more accurate and to provide leverage to their admissions team with better leads, and achieve greater ROI.
What problems do marketing automation platforms solve?
Saving time as starters. But as competition in the education space intensifies, marketing departments and agencies are seeking the latest in innovative marketing techniques to help overcome challenges and boost the efficiency of their marketing campaigns. In the quest for the most effective marketing tools available, many schools and their agencies have incorporated software, such as marketing automation, to help meet their enrollment and start goals.
I already have a CRM with a Marketing Automation feature, do I still need a full-service marketing automation platform?
Customer relationship managers (CRM) – like Campus Vue, SalesForce, Sugar, Talisma, and Zoho – are not marketing automation platforms. Rather, they are CRMs that have a marketing automation feature bolted on to it. Having a marketing automation "feature" is far less effective than a full-service platform where the technology lives at its core.
More About Full-Service Automation Platforms vs CRM (with Automation)
Marketing automation platforms are a robust set of tools for generating and qualifying leads. There is a nice harmony between the two platforms, but CRM functionality is basically limited to tracking communication between sales teams and a prospect.
Marketing automation tools use forms, behavior tracking, dynamic lists, email automation, and analytics to feed the leads into an admissions organization. Simply put, a CRM does not generate leads or help convert them to students. Instead, it is an organization tool for admissions people and Directors of Admissions.
In short, marketing automation allows marketing departments to demonstrate the ROI of their digital campaigns. When marketing teams are able to prove how their campaigns impact the bottom line, they continue to gain more budgeting for marketing programs. With more budget support for their marketing campaigns, marketers are better to expand, grow creatively and execute new campaigns that will further impact their enrollment processes.
See how Edufficient can help you improve your lead nurturing strategies,
Contact a Marketing Automation Specialist Today!