Finding prospective students is no longer about sending out brochures to local areas or spamming mailboxes with brochures. To get people's attention, you have to get on their level. And that level is online.
Pay per lead marketing is one of the most effective ways to get student leads because it's one of the most effective marketing strategies. Period. It takes your business online and in front of potential customers in the highest traffic areas.
If growing your student recruitment sounds like something you want, then keep reading to learn how pay per lead service works and how much you can expect to pay for it.
What is Pay Per Lead?
Pay per lead, like pay per click, is an agreement between the company and marketing service, where the advertiser only pays for leads generated at the landing pages.
A lead is an inquiry or request for program information, it's where you gain access and contact information to potential students. So with pay per lead, you only pay per the leads you gain from advertising on the specified site.
Pay per lead marketing does have a slight learning curve, but, it's remedied by understanding your company's CPL and conversion rate. And as you continue to use this method and the more data you receive, then the more you can change your cost per lead.
Why Is It Useful?
Pay per lead service is useful for educational institutions because it's an effective marketing technique that helps get you in front of key target audiences. And it's done through affiliate networks.
Affiliate networks, or affiliate market programs, are the third-party inquires that will manage the pay per lead marketing.
Every time you gain a lead from the landing page, they're compensated. This means not only is there an incentive for you to get leads so you can have higher enrollment, but there's also an incentive for you to gain student leads because more companies benefit from it.
The more successful the lead, the higher the compensation for the partner network. Now the goal isn't only to get you leads, but it's to get you quality leads.
So We Know How it Works, but What's a Realistic Cost?
Sometimes, it's not always about how much you should pay, it's about how much you can pay. It benefits no one to spend what they cannot afford to. That could end up losing you lots of money.
Using an affiliate partner/vendor, the cost hovers between $50 and $100 per lead depending on the quality, which is a very fair price for the steady quality leads you will gain. This is a great option for schools that are new to marketing for student recruitment or for those looking to create lead flow consistency at scale.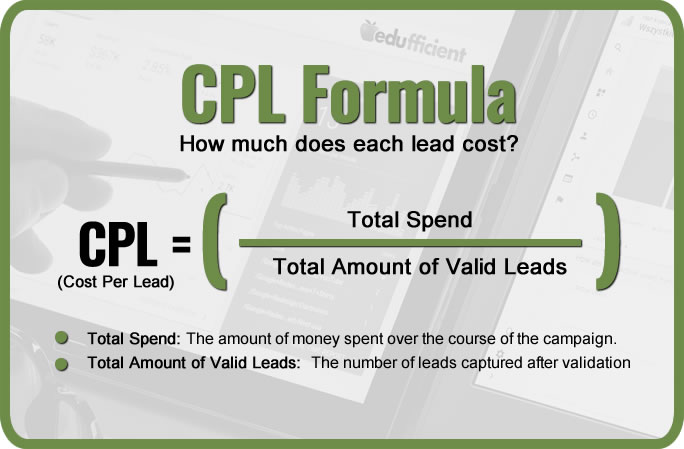 The Calculations
Like we said earlier, it's not about what you should pay, it's about what you can pay. The best way to figure out what you can spend is to calculate your CPL or cost per lead.
This is done through understanding what percentage of your enrollment costs, or typical profit per student, you're willing to spend to get your first conversion. Once you figure out your CPL, you can then focus on finding your conversion rate.
For your conversion rate, let's say per 20 leads you to gain 5 students, this would make your conversion rate 25%. To figure out how much you should be spending per lead, you would divide the conversion rate by the CPL. For example, say the CPL is 1000, divide that by 25%, and your cost per lead would be $250.
Now that would be your maximum, how much you could safely spend per lead while still making a profit.
That won't always be your amount though. Education lead generation can vary and change, like any market, so it's important to stay on top of trends and be flexible.
The Best Way to Get Student Leads
With pay per lead marketing services, you can expect to get leads generated at a great price, and it works well for those new to advertising. Paid advertising, while more expensive, provides tremendous growth and allows you to reach your target audience at their source. 
No matter how you go about getting student leads, pay per lead service has a method that will benefit you.
Here at Edufficient, we want to help schools and universities get the level of services they deserve, so we hope you found the article informative and thoughtful. If you have any questions about pay per lead services, contact us, or visit our site for more information.
Categories